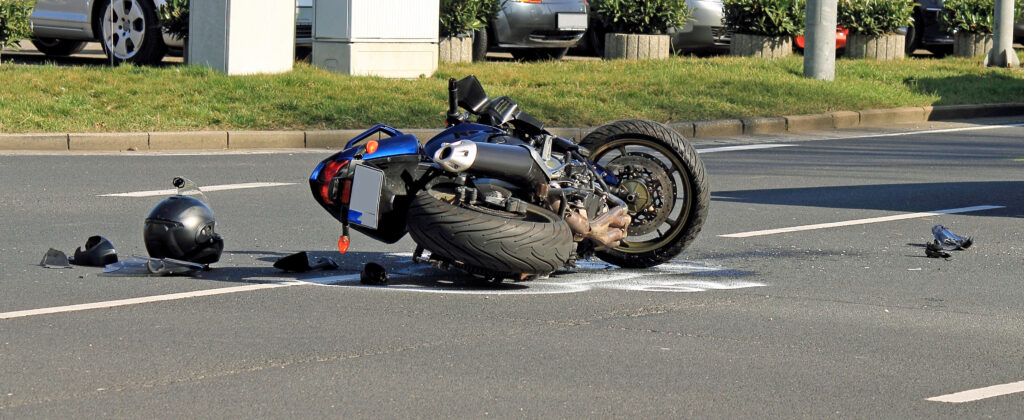 As an injury law firm, we know firsthand how debilitating most motorcycle accidents can be. Many motorcycle accidents usually cause fatal or significant injuries when they occur. Motorcyclists do not have a cage around them to protect them during a crash. In fact, the Indiana Criminal Justice Institute notes that in 2020 there were 138 motorcyclists killed on Indiana roadways showing an increase from 2019. It even demonstrates that the number of motorcycle accidents increased in 2020. Statistics show that every year motorcycle accidents are increasing. Not only do motorists need to be vigilant when on the roadways, but so do motorcyclists.
The most common injuries sustained in a motorcycle accident are:
Fatal injury
Amputations (hands, arms, legs)
Broken bones (arms, legs, pelvis, skull fractures)
Brain injury (concussion, post-concussive syndrome, traumatic brain injury)
Spinal cord injury
Neck injury
Road rash
Scarring and disfigurement
What do I do after a motorcycle accident?
The first thing you should do following a crash is getting medical care. Usually, injuries from a motorcycle accident are severe and require immediate medical attention.
Following a collision, you should do the following immediately:
Call 911
Do not leave the scene of the accident
Ask any witnesses to provide their names and telephone numbers so that you may contact them in the future should a statement be needed
Provide your version of the accident to the police department
Seek medical attention
Report the accident to your auto insurance
Following a collision, it is imperative that you seek medical care. Waiting to get care can inhibit your ability to make a claim against the at-fault driver. If you do not seek care soon after the incident, you may have trouble proving your injuries are related to the accident with the insurance company.
What kind of losses can I recover?
Being involved in an accident without injury alone is very frazzling. If you have been involved in a motorcycle accident you may be unable to work or even unable to care for yourself as you did prior to the crash.
There are many areas of damage that you may be able to recover, such as:
Medical bills and future medical bills
Lost wages and future lost wages
Accident-related expenses
Household services
Loss of Consortium
Pain and suffering
Speaking with an injury lawyer will allow you to have comfort in knowing what your rights are and what to expect.
Contact an Indianapolis Motorcycle Accident Attorney Today!
It is important to obtain initial witness statements, videos, and photographs following a crash. Although you may not be able to obtain those items, an experienced motorcycle injury attorney can assist you with obtaining those items along with many other aspects of a personal injury claim. A personal injury claim is very complex and having someone to fight on your behalf can not only increase your settlement potential but takes the burden of the claim off of you. Your sole focus should be on recovering from your injuries. The attorneys here at Tabor Law Firm know how important it is to have someone on your side to fight for your rights. Call Tabor Law Firm at (317) 236-9000 for a free consultation today!