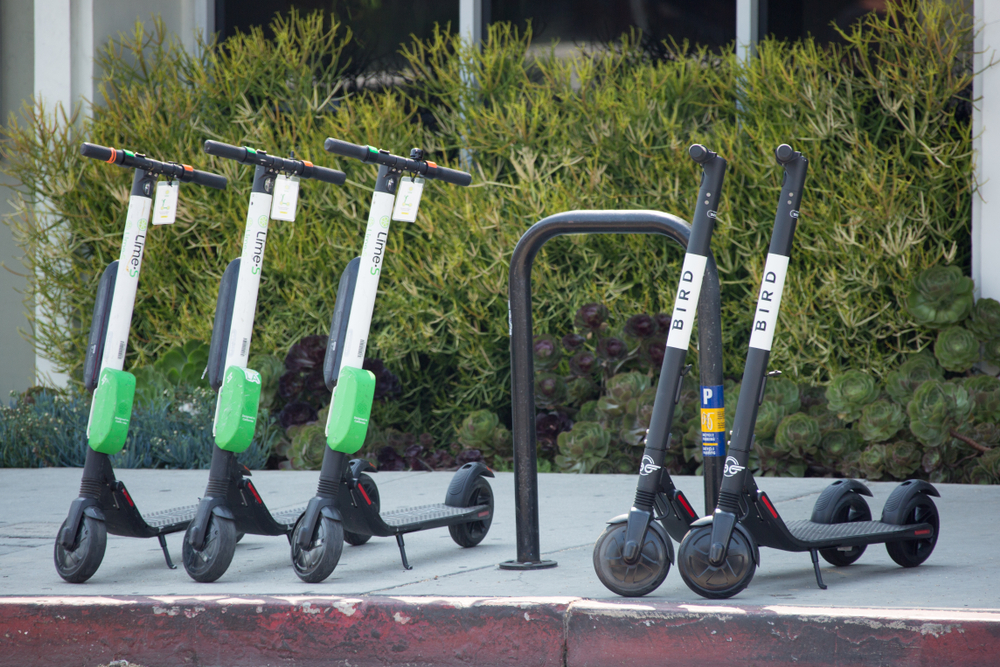 Indianapolis' E-Scooter Laws
E-Scooter Rules for Riders
The popularity of e-scooters has skyrocketed in recent years. This is largely due to companies like Lime and Bird, who provide dockless rental scooters in major cities across the country, including Indianapolis. Like many cities, Indianapolis has laws regulating the usage of e-scooters. Though it may be surprising, e-scooters are legally treated more like bicycles than motorcycles or motor vehicles. They are also treated differently than other personal mobility vehicles, like mopeds.
Riders must be 18 years old and have a valid driver's license to rent an e-scooter. Additionally, riders are encouraged to wear helmets, though helmets are not currently required. Finally, riders must obey all traffic laws.
E-scooter riding rules as outlined by the IMPD include:
When parking e-scooters on sidewalks, they need to leave four feet clear for pedestrian traffic
When riding, you cannot ride on the sidewalks, cultural trails, or greenways
You must ride the e-scooter out on the street and in bike lanes
You must go with the flow of traffic
You are not allowed to go the wrong way down a one-way street
Indianapolis Rules for E-Scooter Companies
In Indianapolis, e-scooter companies must obtain a business license to operate in the city. When applying for a license, the company must pay a $15,000 licensing fee. According to Indianapolis Code Section 905-105, companies such as Bird and Lime must acquire and maintain commercial general liability insurance that "will protect it and the city from claims for damages because of bodily injury and personal injury, including death." This liability insurance should also contain protections for claims of damages to property "which may arise out of or result from the operation, maintenance, or use of the shared mobility system and the operator's shared mobility devices."
Minimum requirements for this insurance are outlined as:
Each occurrence limit of $1,000,000
$100,000 for damage to rented premises
$5,000 for medical expenses
$500,000 for personal and advertising injury
$1,000,000 products/compelted operations
$1,000,000 auto liability
2,000,000 general aggregate limit
$5,000,000 excess or umbrella liability
Indianapolis also requires companies to meet certain safety, condition, and appearance requirements for their e-scooters and e-bikes. Companies must keep their devices in reasonably clean and working condition, and all devices must meet "all safety standards as prescribed by the license administrator."
Each device is required to have:
A clearly-displayed, unique ID number that is visible to both the user and nearby pedestrians
A bell, horn, or other sound-signaling devices
For devices that are operable at night, a front lamp that emits a white light visible from at least five hundred feet to the front
For devices that are operable at night, a rear lamp that emits a white light visible from at least five hundred feet to the rear
Companies are also required to post the following guidelines for riders in a way that is clearly visible:
Riders are encouraged to wear helmets
Riders must follow all traffic laws
Riders must yield to pedestrians in the public right-of-way
Riders must adhere to correct parking procedures
Riders must confirm their agreement to comply with rider requirements during the sign-up process (this confirmation process must also be on its own stand-alone page)
Furthermore, devices are only to be ridden by one person at a time, and riders are not to be in the control of an animal (such as a dog) while riding.
2019 Updates to Shared Mobility Device Regulations
On May 10, 2019, the Indianapolis Department of Business and Neighborhood Services (BNS) Board issued new regulations for e-scooter companies (also referred to as Shared Mobility Operators). According to these regulations, only six Shared Mobility Operators are allowed to operate in the city at a time. Furthermore, these regulations also outline high usage and access zones in the city where Operators must place a certain percentage of their e-scooters/devices.
Each company may only have 1,000 dockless e-scooters/shared mobility devices active within their respective systems. Also defined in these regulations is a monthly minimum utilization rate (MUR) that guides the number of e-scooters an Operator may have in circulation at any given time. Companies may apply monthly for a 250-device increase when their MUR exceeds three. However, if their MUR drops below two, they must immediately remove some of their scooters from service.
What Happens When Someone Is Injured on an E-Scooter?
In the news, you have likely seen that since the rise of e-scooter popularity in cities across the country, accidents and injuries have also increased. Unfortunately, the same is true for Indianapolis; e-scooter and e-bike accidents are all too common.
Common causes of e-scooter accidents include:
Riding in bad weather
Road hazards
Lack of visibility
Negligent or reckless behavior
Failure to comply with traffic laws
Damaged or malfunctioning equipment
Short-stopping (also panic stopping) is another common cause of e-scooter accidents. This occurs when an e-scooter rider is forced to slam on their breaks (such as to avoid a road hazard) and then is thrown from the e-scooter. These accidents can be incredibly serious as they often involve other vehicles, pedestrians and/or occur in hazardous conditions.
So what should you do if you or a loved one is injured in an e-scooter accident?
After you attend to your (or your loved one's) medical needs, you should reach out to Tabor Law Firm, LLP to discuss your situation. If your accident was caused by the recklessness or negligence of another party, such as another driver or the e-scooter company, you might be entitled to compensation for your injuries. E-scooter accident injuries can be serious, and this compensation can be vital to ensuring that you receive the care you need. Compensation may also be sought for lost wages (present and future), long-term disability costs, rehabilitation, pain, and suffering.
At Tabor Law Firm, LLP, we know how fun e-scooters can be, but we also know that they pose significant risks. We are committed to helping our clients receive the compensation they deserve and which supports them in moving forward after an e-scooter accident. To schedule a consultation, reach out to our law firm today.