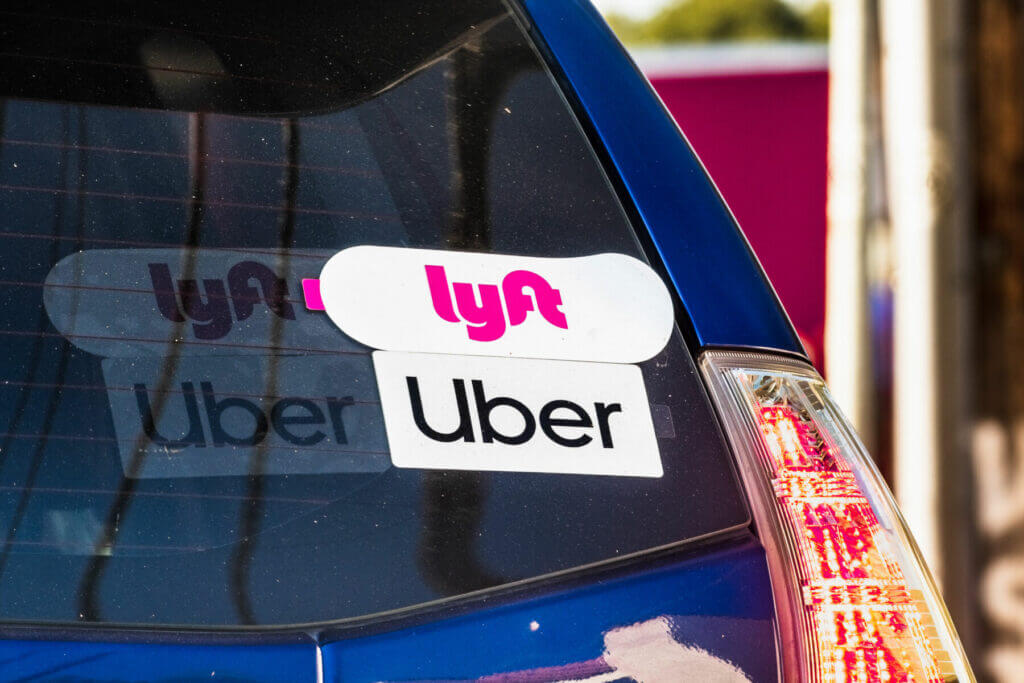 Ridesharing through apps like Uber and Lyft is incredibly popular in Indianapolis. These apps offer a convenient, affordable way to get around the city. However, as their popularity increases, so do instances of ridesharing accidents. Like any car accident, these accidents are often serious and can result in serious injury to riders and drivers alike.
Common rideshare accident injuries include:
Neck injuries, including whiplash
Head injuries– traumatic brain injury or concussion
Broken bones
Cuts and bruises
Burns
Soft tissue injuries
So, what happens when someone is injured in a rideshare accident? As with any car accident, if someone else's negligence or recklessness causes the accident and subsequent injuries, the injured parties may have the option to file a personal injury lawsuit and seek compensation for their injuries.
However, rideshare accident cases can be more complicated than the average car accident, especially when it comes to determining liability. Below we review how these accidents are different, who is liable, and what to do if you or a loved one is injured in an accident while using a rideshare service.
How Are Uber & Lyft Accidents Different?
As a driver, you are legally required to carry insurance that provides coverage in the event there is an accident. Indiana has set uninsured and underinsured motorist coverage minimums, and many motorists carry additional insurance beyond the minimum requirements to help cover accident damages.
Furthermore, Indiana is an at-fault state, which means that whoever is found at fault for the accident is the person who is responsible for the associated damages. Generally, this means that if you are driving and cause an accident, it is your insurance coverage that will be applied to the accident.
Accidents involving rideshare services are a little more complicated than the average car accident. This is because they involve the drivers and passengers in the accident and the rideshare company. Depending on the circumstances of the case, it will be either the driver's personal insurance or the ridesharing company's insurance that applies.
Determining Liability in Car Accidents
Determining who is legally liable for an accident involving a Lyft or Uber driver can be difficult. It becomes even more complicated if the driver working for the ridesharing company is found responsible for the accident. In particular, when the accident happened and whether the rideshare driver was working for the rideshare company at the time of the accident will determine who is legally liable for the accident.
Some grey areas regarding who is legally responsible for a rideshare auto accident include accidents that occur:
While the driver is waiting for a ride
While the driver is driving to pick up a passenger
While the driver is dropping a rider off
While the driver is returning to their original area to wait for another ride
With so many grey areas, it is recommended that you work with a personal injury attorney if you have been injured in a car accident involving Lyft, Uber, or any other ridesharing service.
Whose Insurance Will Cover My Injuries?
As mentioned above, depending on the circumstances of your accident, your injuries and other damages may be covered by either the driver's or the rideshare service's insurance policy. If injured, you will likely need to file a third-party insurance claim with the at-fault driver's insurance. In the case of a rideshare accident, that might mean filing a claim with the rideshare service's insurance and not the driver's personal insurance. Speak with your lawyer to determine your best course of action after a rideshare accident.
Lyft offers the following coverage for accidents that occur when the app is on and the driver is waiting for a ride request:
$50,000 per person for bodily injury
$100,000 per accident for bodily injury
$25,000 per accident for property damage
Meanwhile, they offer the following coverage for accidents that occur when the app is on and the driver is picking up passengers or during rides:
$1,000,000 for 3rd-party auto liability
Uninsured and underinsured motorist bodily injury and/or 1st-party coverage
Contingent comprehensive and collision up to the actual cash value of the car ($2,500 deductible)
Uber offers the same insurance coverage.
When To File a Personal Injury Lawsuit?
Filing a personal injury claim after a rideshare accident may be your best bet when it comes to getting the compensation you deserve and which you need to heal and move on. When only working with insurance companies, you are limited to the insurance coverage limits. Even though these limits may seem generous, they are often not enough to cover your expenses. This is especially true in cases where someone has suffered catastrophic injuries that require lifelong care or when someone has been fatally injured.
Compensation may be sought for many accident-related costs, including:
Medical expenses
Future medical expenses
Lost wages
Permanent disability costs
Pain and suffering
If you or a loved one was injured in a rideshare accident, it is highly recommended that you consult with a personal injury attorney as soon as possible after your accident. Though you have a lot on your plate, guidance from an experienced lawyer like ours at Tabor Law Firm, LLP can be invaluable and can help increase the likelihood that you will get the support and compensation to which you are entitled.
Your Attorney Can Help with More Than Filing a Claim
Rideshare accidents are complicated, and dealing with insurance companies is notoriously difficult. Just because a driver has insurance or is covered by the rideshare company's policy doesn't mean that you will automatically receive the compensation you need or are entitled to after an accident. Insurance companies want to protect their bottom line, and every day we hear stories about how an insurance company has done everything it could to avoid paying a claim.
Just as an attorney can help you file a personal injury lawsuit, they will be able to help you negotiate with insurance companies and healthcare providers, helping you both secure the coverage you need and potentially reducing your medical bills and more likely than not a higher recovery from the insurance company. Our experienced lawyers know how to handle serious injury claims, and even with attorney fees our client's have a better end result than if they had tried to handle it themselves.
To schedule a free confidential consultation with one of our lawyers in Indianapolis, call us at (317) 236-9000 or use the chat box at the bottom of your screen for an immediate response!