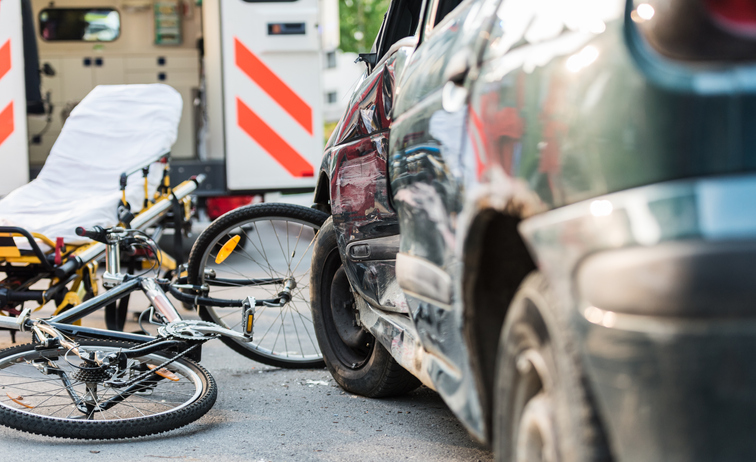 This year Indiana we have seen a significant increase in hit-and-run accidents, specifically fatal incidents. It seems that almost every day there is a report of an auto accident involving a pedestrian with serious or fatal injuries on the news. It's a saddening trend that cannot continue.
According to a news report by the Indy Star, 2022 is on its way to being one of the worst years for fatal pedestrian accidents. By the first of the month, we had surpassed the number of pedestrian accidents in 2021 alone. The Indianapolis Metropolitan Police Department reported that they had investigated 25 pedestrian fatal accidents and 1 cyclist incident through August of 2022.
Where are we seeing most of these accidents?
Studies show an increase in accidents due to speed and distracted driving since the pandemic. Most of this was attributed to having less traffic on the roadways during the past couple of years. People appear to be driving faster and not considering that most individuals have returned to the roadway. Crowded roads coupled with fast, distracted driving create conditions for unnecessary serious auto accidents.
Drivers are not taking into consideration an increase in pedestrian traffic, especially in urban areas, such as Indianapolis and the surrounding cities. As cars are flying through the areas, they are not seeing pedestrians and causing serious, life-altering injuries with many of those turning into fatalities.
According to the IMPO, there are 24 high-crash areas in the metropolitan planning area where a safety audit resulted. The most dangerous intersections in and around Indiana are:
10th Street at Girls School Road
24th Street at Keystone Avenue
38th Street at Commercial Drive/Industrial Boulevard
38th Street at Franklin Road
38th Street at High School Road
46th Street at Shadeland Avenue
116th Street at Olio Road
146th Street at Carey Road
146th Street at Gray Road
146th Street at Hazel Dell Parkway
146th Street at River Road
Averitt Road (CR 100W) at Smith Valley Road
CR 100N (10th Street) at Raceway Road
CR 300N at Franklin Street/Fortville
Pike Mount Comfort Road (CR 600W) at CR600N
Crawfordsville Road at Cunningham Road/Parkwood Drive
Elmwood Avenue at Emerson Avenue
Emerson Avenue at Victory Drive
Main Street (CR 950N) at Sheek Road/South Park Boulevard
New York Street at University Boulevard
Northfield Drive at Green Street
Ohio Street at Pennsylvania Street
Rural Street at Washington Street
South Street/Fletcher Avenue at Virginia Avenue and East Street
According to the research of IMPO, the accidents that cause the most serious injuries are the following:
Cars that ran off the roadways
Right Angle and Left Turns
Rear end accidents
Along with these types of accidents, most involve the following violations:
Following too closely
Failure to yield the right of way
Disregarding signal
Unsafe speed
Of course, none of this seems surprising considering how the roadways were nearly empty in 2020, with traffic slowing increasing over the last two years as the pandemic slowed. The question is, what can be done to make drivers more alert and aware of their surroundings? That is the reason for the IMPO's current survey in trying to come up with a plan to make Indiana's roadways safer.
What is Indianapolis doing about it?
Given the increase in accidents, IndianapolisMetropolitan Planning Organization has implemented the Safe Streets and Roads for All Action Plan. They are asking for input from Indianapolis residents on how the city can improve the area to combat the countless auto accidents. This not only is asking for input from Indianapolis, but the surrounding counties such as Hendricks, Hamilton, Hancock, Johnson Morgan, and Shelby Counties to name a few.
IMPO has plans in place to work on the areas to increase awareness of high crash intersections, improve lighting and increase the use of high-traveled intersections and roundabouts. They continue to research high accident areas and discuss plans to improve those areas for pedestrians and drivers.
What if you were injured in a pedestrian accident?
If you or someone you love has been a victim of a pedestrian accident, it is best to seek the advice of a personal injury attorney. Call our lawyers at (317) 236-9000″>(317) 236-9000 for a free no-obligation consultation. During this time, we are sure you have questions regarding your rights as an injured victim or a family member of someone that has been seriously injured in an auto accident. Our experienced attorneys at Tabor Law Firm, LLP are available to discuss options regarding your potential case along with what to expect moving forward. You owe us nothing until we win your case!