Backed By 100+ Years of Combined Experience
Bicycle Accident Attorneys in Indianapolis
With the construction of more and more bike lanes and a greater emphasis on overall health, more people in Indiana are choosing to ride bicycles for transportation and pleasure. Unfortunately, according to the Indiana State Police, the number of bicycle accidents leading to serious injury or death has risen.
When you trust your case to the experienced bicycle accident attorneys at Tabor Law Firm, you can trust that we will do everything we can to immediately begin a thorough investigation of your claim, starting with visiting the scene of the accident as soon as possible.
We can establish the cause of the accident and aggressively negotiate with insurance companies on your behalf in order to seek damages for: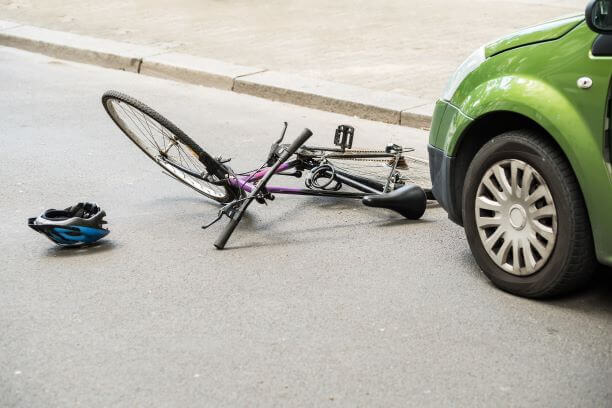 What Our Investigation Entails
If you are hurt in a bicycle accident involving a collision with a motor vehicle, seek immediate medical attention to prevent any further complications that arise from lack of treatment. Then, call our office.
During our investigation, we typically look for information like:
What is your experience as a bicyclist? We look at your overall experience as a bicycle rider, the type of bicycle you were on, and the safety features of the bicycle.
Where is the damaged bicycle? The location of the damaged bicycle and securing the bicycle as evidence in your case is important—do not get rid of it.
Where did you purchase the bike and what is its maintenance history? We'll look at where and when you purchased the bike, as well as whether it had been modified or serviced since then.
What was the conduct of the driver? We'll examine whether the driver was drunk, negligent, or disobeying the rules of the road when he or she hit you.
We've worked with many experts on bicycle cases, including design experts and visibility experts who can assist us in evaluating your case. Because we know how important recovering compensation is for meeting your needs, our Indianapolis bicycle accident lawyers dedicate the resources necessary to build a strong case.
Bicycle riders in Indiana have all the same rights as a person behind the wheel of a motor vehicle. Under Indiana law, cyclists are entitled to expect that the motorists they share the road with will not be aggressive toward them and will yield when the cyclist signals they are making a turn or crossing traffic.
What Is the "Dead Red" Law?
Indiana also follows the "dead red" law which allows cyclists, motorcycles, and mopeds to run red lights if they have not turned green for more than two minutes. Since these smaller vehicles are typically not heavy enough to trip the sensor signaling the light to change, this law prevents them from being stuck at a light until a larger vehicle arrives. Cyclists are, however, expected to yield the right of way to pedestrians and traffic.
The city of Indianapolis has special ordinances in place that add more protections to bicycle riders. Whenever cyclists are traveling in the designated bike lanes throughout the city, the motorist must yield.
Drivers also can't park or stop in the bike lane and must leave at least three feet of space between their vehicle and a cyclist traveling in the bike lane. The state of Indiana does not enforce the three-foot passing law, however, the city of Indianapolis does. Some drivers may not be familiar with these Indianapolis specific laws, creating dangerous conditions on the road.
Bicycle Accident Statistics for Indiana
According to Indiana State Police, accidents between drivers and cyclists increased by 17% between 2011 and 2012. Out of the 103 reported accidents, 97 cyclists suffered serious or permanent injuries, while 14 cyclists died.
Statistics from the Center for Disease Control show that there were 476,000 bicycle-related injuries in 2015 and 840 bicyclist fatalities in the U.S. in 2016.
During the same year, the National Highway Traffic Safety Administration (NHTSA) reported that 818 pedalcyclists died in accidents, making up 2.3% of all traffic fatalities. The Indiana Criminal Justice Institute also studied bicyclist fatalities in 2015, finding a total of nine deaths in Indiana.
What Are the Common Causes of Bike Accidents?
Common causes of bicycle accidents include:
Distracted driving
Driving under the influence of drugs or alcohol
Failing to yield the right of way
Following too closely
Speeding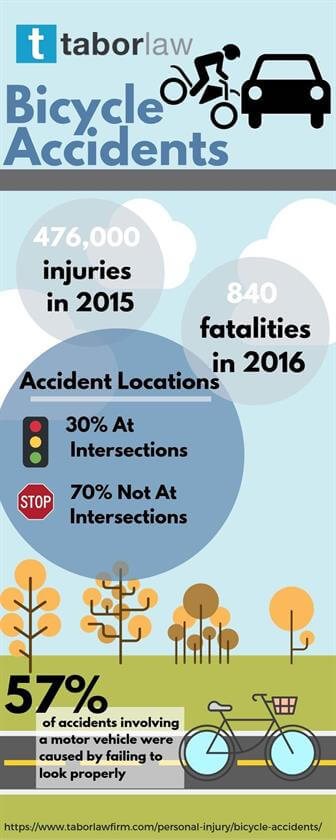 The Dangers of Electric Bicycles
Electric bicycles, or "e-bikes," are the latest fad in a transportation revolution that utilizes mobile application technology and peer-sharing services. These cost-effective and environmentally-friendly vehicles have become extremely popular with both local Hoosiers and tourists alike.
However, like any transportation option, there are numerous safety concerns associated with e-bikes that all owners and renters need to be aware of:
Most rental companies don't regulate a biker's speed or provide helmets with their products.
While e-bikes aren't legally recognized as motorcycles, they can still reach speeds that surpass standard pedal bicycles – a reality most motorists aren't prepared for.
E-bicycles can easily be overturned by road hazards, including clutter and broken pavement.
In China, e-bikes are known as "Silent Killers" because they are so quiet that pedestrians, drivers, and other bicyclists can't hear an approaching operator.
E-bicycles lack external and built-in safety features.
Motorists aren't used to watching for e-bikes, a fact that frequently leads to tragic collisions and fatal injuries.
A major e-bike accident can alter the trajectory of your life and completely devastate your financial situation. Unfortunately, electric bicycle litigation represents an untried legal frontier with a body of precedent that is practically nonexistent.
To protect your standard of living, you need to retain the services of an experienced, resourceful, and innovative attorney who isn't afraid to think outside the box. At Tabor Law Firm, our trial-tested legal team can investigate your case, identify the negligent parties, and help you pursue restitution that facilitates your ongoing physical and financial recovery.
Who Can Be Held Liable for E-Bike Injuries?
An injured e-bicyclist may have grounds to file a claim against the following parties:
A motorist
A fellow e-biker
An e-scooter rider
The manufacturer
The rental company
A business owner (premises liability)
The city
Schedule Your Free Consultation Today
There is no risk in sitting down with one of our attorneys to evaluate your case. We will help you determine the best way to proceed and take on all of the difficult legal work, and you will never owe any fees until we secure compensation for you.
Recommended Reading & Resources
The Tabor Law Firm Difference
Over A Century of Combined Experience
Aggressive, Empathetic, and Accessible Representation
Thousands of Clients Helped Throughout Indiana
You Don't Pay Until We Win