Truck Accident Attorneys in Indianapolis
Assisting clients throughout the state of Indiana
Truck accidents are not uncommon circumstances on America's roadways, yet they are the most dangerous motor vehicle accidents that take place. When a truck collides with another vehicle, especially one that is much smaller in size, severe and life-threatening injuries will likely occur.
When the victim suffers injury from the truck accident, they can and should pursue compensation for the damages suffered. The trucking industry is vital for our economy, delivering goods from manufacturers to consumers on our extensive network of highway systems.
This equates to thousands of trucks sharing roads with hardworking Hoosiers, especially on:
However, every 16 minutes in the United States, a person suffers an injury or wrongful death due to a truck accident.
Contact us online or by phone at (317) 236-9000 and request a free consultation with one of our highly experienced truck accident attorneys in Indianapolis.
What To Do After a Truck Accident
If you or a loved one has been involved in a semi-truck collision in Indiana, call Tabor Law Firm as soon as possible. Our truck accident lawyers have extensive litigation experience with tractor trailer, dump truck, logging truck, delivery truck, cement truck, tanker truck, flat bed, gravel truck, water truck, buses, and other commercial vehicles and the insurance companies that represent them. We have handled hundreds of truck accident cases, and we work diligently to ensure our clients get the legal support they need as we work to obtain the full compensation they deserve.
This is an essential step in your truck accident case to secure the financial assistance you and your family needs to rebuild your lives after this tragedy. We have years of experience assisting those who have been tragically harmed or lost a loved one due to a truck accident.
The Right Representation for a Complex Case
Truck accidents typically involve much more complicated processes than other types of motor vehicle collisions, such as car or motorcycle crashes.
At Tabor Law Firm, our lawyers can work with you to simplify the process and investigate the situation fully. This allows us to evaluate fault for the accident and determine the full extent of your losses so that our team can pursue the compensation you deserve.
How Our Semi-Truck Accident Attorneys in Indianapolis Can Help
During our investigation of your truck accident claim, we work to determine:
Who Was Involved and Who Is Liable?
It's not always as straightforward as it seems. In fact, in any semi-truck accident claim, there may be a number of liable parties, including but not limited to:
The truck driver
The trucking company
A manufacturer of a truck part
The person or entity responsible for truck maintenance
Another third party
Were Any Laws or Trucking Regulations Violated?
There are multiple layers of potential responsibility with a truck accident, and laws that regulate the trucking industry are stricter than those that apply to passenger vehicles.
Our truck accident lawyers in Indianapolis work to uncover whether the driver was compliant with all laws and industry regulations, allowing us to help assign liability in your case. We examine critical evidence, such as logbooks and the tractor and trailer themselves before the trucking company can perform repairs.
What Are Your Harms and Losses?
Unless you have a minor injury, which rarely happens in these types of cases, you will need an attorney to determine the full extent of your injuries and losses.
When determining the lifetime impact of the accident, we look at:
Past and future medical expenses
Past and future loss of income/earning capacity
Past and future pain, suffering, emotional distress
And loss of quality of life
Who Will Pay Your Medical Bills?
The trucking company may not pay for your medical bills until you receive your settlement, which may take over a year. Your own health insurance or automobile insurer will usually pay your bills while your case is pending. We can review your insurance coverage to determine who will pay your bills while your case is pending.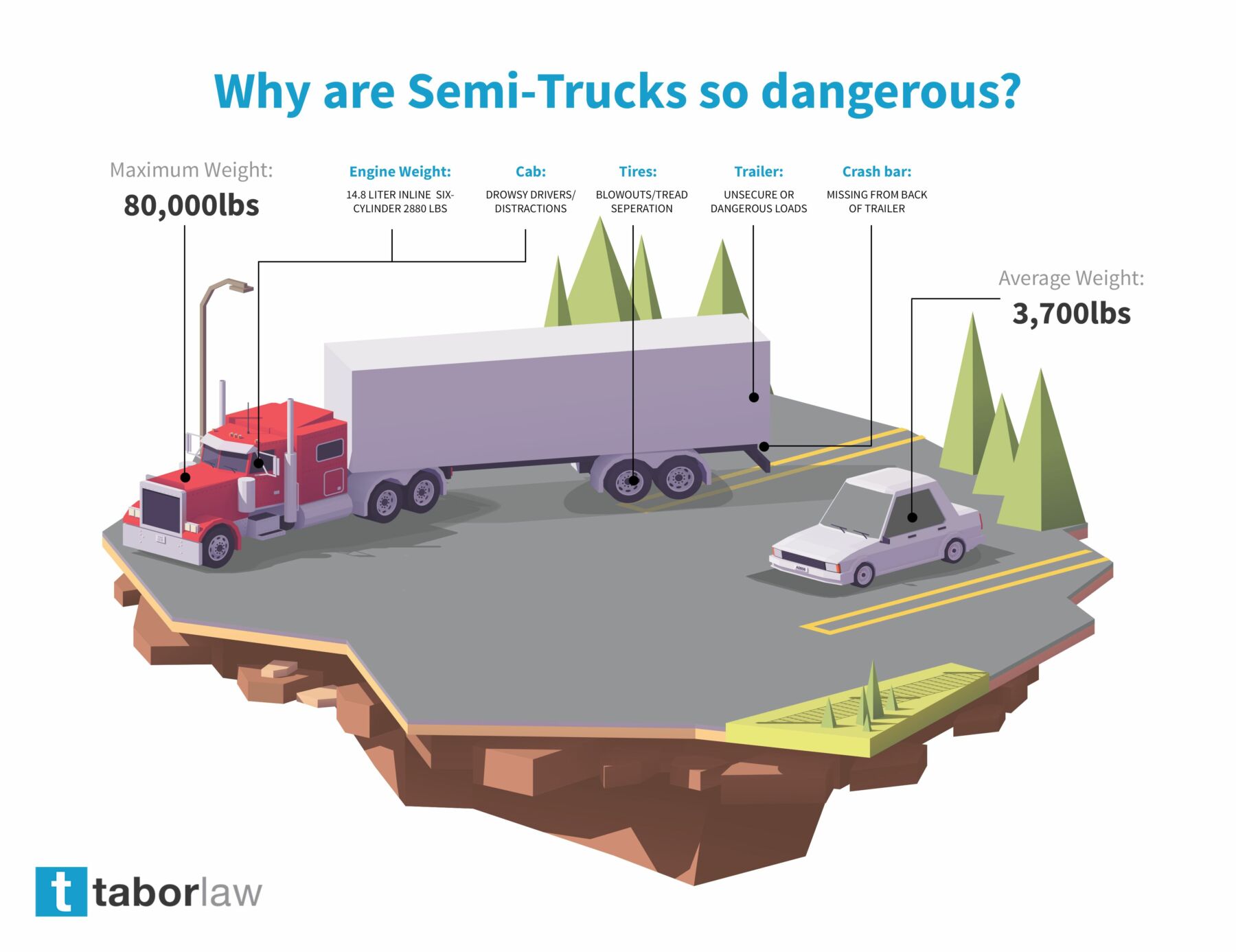 Knowledge is essential as you navigate your legal battle, especially when dealing with the legality involved in a truck accident. Here are some of the common questions our truck accident clients have in regard to their case.
What if the accident was caused by a driver from another state?
It should not make a difference whether the driver who caused the crash was from Indiana or another state. Our team can still evaluate your case and file a claim against the negligent party; whether that is the truck driver, the trucking company, or a third party.
Should I see a doctor if my injuries are only minor?
Absolutely. Many injuries, such as concussions or internal bleeding, cannot be detected until the damage has become serious. It is always best to get a professional medical exam following the crash.
I received an offer from the insurance company. Should I accept it?
When the insurance company offers you a quick settlement offer without going through the negotiation process, it likely means that they are offering you the lowest possible amount. It is advisable to work with an attorney who has experience evaluating cases and determining what they may be worth. The likelihood is that they know your case is worth more and are attempting to make a quick offer.
How long do I have to decide whether or not I want to pursue legal action?
Indiana follows a two-year statute of limitations. This means that you have two years from the date of the accident to file a personal injury claim. Once the deadline to file has passed, you may be unable to pursue legal action for your injuries.
Do Not Delay—Talk To Tabor Law Firm Today
The trucking companies, insurance companies, and their attorneys know Tabor Law Firm. They know we cannot be pushed around and that we take our clients' cases seriously. We invite you to schedule a free consultation with our firm as soon as possible to learn how we can put those skills to use for you.
The Tabor Law Firm Difference
Over A Century of Combined Experience
Aggressive, Empathetic, and Accessible Representation
Thousands of Clients Helped Throughout Indiana
You Don't Pay Until We Win