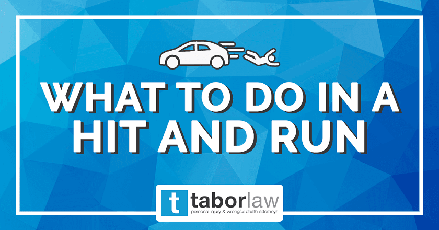 You're side-swiped on the highway and the other driver speeds away. You're walking along and an uninsured motorist jumps a curb and hits you. Or maybe you're out bicycling and a driver crashes into you from behind and drives away. Leaving you alone with injuries on the side of a road. It can also leave you asking, "Who's going to pay for this?" Medical bills. Lost wages. Even property damage. The answer may be your own car insurance coverage, but there are a whole host of other factors to consider.
The first thing to do when you're involved in a hit and run is to contact the police to report the accident. In many jurisdictions, it is a legal responsibility to notify the police if involved in an accident that involves injury or property damage over a certain amount. Additionally, having a police report on file can later help in the claims process.
If you're the victim of the hit and run you should not refuse medical attention. Many injuries are not self-evident, and showing a clear link between the accident and any injuries may be necessary in order to recover for medical expenses and pain and suffering as part of an accident injury claim.
If you're able, you should try to gather as much information as possible about the accident. Write down a description of the vehicle, as well as the license plate or the portion of it that you remember. Any observed damage or identifying characteristics on the vehicle such as specialty license plates, bumper stickers or custom trim should also be noted.
More than 1 hit and run accident occurs every minute in the U.S.
20% of pedestrian deaths in the last 10 years were caused by hit and runs.
~ AAA Foundation for Traffic Safety
If you saw the driver, you should try to write down or make a note in your phone of a description of him or her while the memory is fresh. If anyone else may have seen the accident, you should get the contact information for these witnesses. Likewise, the victim should look for any nearby cameras that may have photographed or recorded the accident.
If possible, you should also take pictures of the accident scene, including pictures of vehicle damage, the location where the vehicle was struck and the surrounding area. Photos should be shot in a variety of different angles. For easy reference during the claims process, you should also record the time and location of the accident.
There are steps that accident victims can take to maximize their ability to recover for their losses. In Indiana, all drivers are required to carry minimum liability insurance of $25,000 per injured person or $50,000 per accident, as well as $10,000 in property damage liability. However, many Indiana drivers are uninsured. Even if you are hit by someone who carries the minimum liability coverage, it is doubtful that this coverage will be enough to compensate you for your damages, especially if the accident left you facing catastrophic injuries.
If you were involved in a hit-and-run accident, struck by an uninsured motorist, or injured by a driver whose insurance coverage does not meet your needs, you may be able to recover compensation through your own insurance policy. Uninsured and underinsured motorist (UM/UIM) coverage is not mandatory in Indiana, but it is possible that you do already have this coverage in your auto insurance policy if you have not rejected it in writing.
The exact damages covered by your UM/UIM insurance may vary, depending on your specific policy and your insurance provider.
However, in most cases, UM/UIM covers the following:
Medical bills (past, current, and future)
Lost income/wages
Lost or reduced earning ability
Pain and suffering
Property damage
Additionally, UM/UIM coverage can typically be applied to the policyholder, as well as his or her passengers and, in some circumstances, his or her immediate family members (such as a spouse or child). This coverage provides the same coverages that would normally be covered under a liability claim.
As previously mentioned, UM/UIM coverage is not required by Indiana law. However, we at Tabor Law Firm strongly recommend that you add this coverage to your auto insurance policy. Accidents involving uninsured drivers are not uncommon; many people choose to flee the scene of an accident because they do not have insurance or for other reasons. Additionally, many drivers only carry the minimum required liability coverage. If you are injured by an uninsured or underinsured motorist, or you are not able to get the at-fault driver's contact information, you may be out of luck unless your own policy includes UM/UIM coverage.
Hit and run accidents can cause a great deal of damage and distress — especially if the responsible party never comes forward. However, having an experienced partner on your side such as Tabor Law Firm, we can help put your mind at ease on what to expect throughout the process. The legal team at Tabor Law Firm has more than a century of combined legal experience—we know what it takes to navigate the system and handle these types of complex claims. To talk to a lawyer about your case, reach out to our firm today and request a free initial consultation.