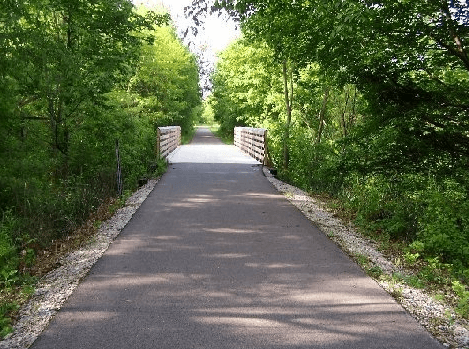 If you had millions of dollars to invest, which would you choose-revamping
a rail line in the northern suburbs of Indianapolis, or would you put
your dollars towards a new paved trail for pedestrians and bicyclists
comparable to Indianapolis' Monon Trail? According to the Indiana
Business Journal, last month local officials in Hamilton County proposed
a $9.3 million dollar project to redevelop the current Nickle Plate railroad
corridor- the rail that kept the Indiana State Fair train tradition alive-
into a 9.2 mile paved trail running between Fishers and Noblesville.
In an earlier blog post, we addressed the Nickle Plate Rail's need
for millions of dollars in repairs in order for the Indiana State Fair
train to run again in future years. However, local officials have now
sparked a debate by lobbying to rather invest the millions needed for
the rail repairs in a paved trail; dubbed the Rail vs Trail debate. Fishers
Mayor Scott Fadness' stance is that the $9.3 million would go towards
a trail that could be used 365 days a year-but let's be realistic,
with Indiana weather, Hoosiers would be lucky to use the trail 10 months
of the year. However, it is a logical argument that a trail that could
be utilized nearly year round by Hoosiers would be a better investment
compared to spending those same millions of dollars to repair a rail line
that would also need regular maintenance and repairs year after year.
With the ever growing bicycling community in Indiana and with that, rise
in bicycle accidents resulting in serious injury and even deaths, an additional
paved path would benefit both pedestrians and Indiana cyclists by reducing
the likelihood of a collision with a motor vehicle. Tabor Law Firm has
unparalleled experience representing injured cyclists, and when a cyclist
is struck, it is almost always on a roadway shared with motor vehicles
or on a sidewalk next to the roadway. While we hate to see the tradition
of riding the train to the Indiana State Fair every summer end, our vote
would be to invest in the paved trail. What would you choose?
If you have been injured in a bicycle accident, contact the experienced
bicycle injury attorneys at Tabor Law Firm for a free consultation today.
To learn more about Tabor Law Firm's experience representing victims
of bicycle accidents, click here.