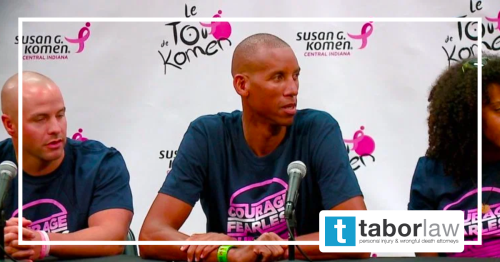 The Indiana Pacers' all-time scoring leader is also a cycling fanatic.
He was known to hop on his bike and log hours riding through central Indiana
while playing for the Indiana Pacers.
Reggie Miller's recalls his first ride was in 2002 with
Bicycling Magazine. Rage Against the Machine bassist Tim Commerford recognized him at a restaurant
and invited him to come along on a ride that included renowned big-wave surfer,
Laird Hamilton. On a heavy bike borrowed from Commerford, not clipped in, Reggie found
himself huffing and puffing to keep up. And he was impressed by his companions'
athleticism. "To see [Laird and Tim] get after it," he recalls,
"I was like, 'Yeah, this is what I want to do.'"
Soon after he bought himself a Giant mountain bike with 26-inch wheels.
But he was still under contract with the Pacers and a mountain biking
injury could mean breaching his NBA contract. So he only rode occasionally
until he retired in 2005.
At that point, Reggie turned to cycling as a way to stay in shape—he
wanted to look good in his suits for TNT. Then he started going on longer
rides, exploring the rugged canyons near his home in Malibu, and fell
in love with getting way out there, to the middle of nowhere.
Well, now the Indiana Pacers legend is back in Indiana and back in the
saddle to raise money for a good cause.
Miller is biking in the Tour de Komen. He left Fishers at 8 A.M. and is
biking 100 miles to Terre Haute to raise money for the Susan G. Komen
Foundation.
Founder Kyle Vannoni asked Miller to join the team to help raise more awareness,
and Miller brought a team of four top female professional bikers: Holly
Breck, Lauren Hall, Ayesha McGowan and Rayln Nuss.
Miller spent a lot of time on his bike to train for the ride. He says he
bikes a lot in southern California, where he currently lives, but it's
primarily mountain biking.
They hope to raise at least $100,000. Find more information about donating
here.