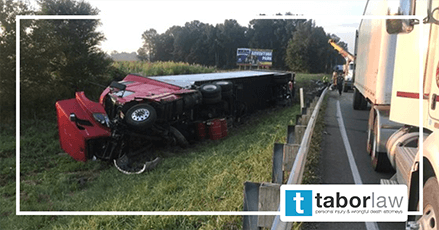 Early Monday morning at approximately 4:30 AM, the Indiana State Police responded to a single-vehicle crash where a semi ran off the road and overturned on I-65 Norhbound in Jackson County. The northbound lanes of I-65 remained closed for approximately eight hours for crash investigation and cleanup.
The initial investigation indicated a 2009 Volvo semi pulling an enclosed trailer being driven by James M. Murphy, age 56, was traveling northbound on I-65 near the 51.5 mile marker, just north of Seymour, in Jackson County. The vehicle left the east side of the roadway before striking a guardrail and overturning off the east side of I-65.
During the initial investigation, Indiana State Police observed that Murphy had been drinking alcohol and he showed signs of being intoxicated. A roadside preliminary breath test indicated Murphy had a .26% BAC. Murphy was transported to Schneck Medical Center in Seymour, Indiana where a search warrant was served to obtain a blood sample from him. The toxicology results are pending at this time.
Murphy was arrested and transported to the Jackson County Jail on charges of Operating While Intoxicated and Operating with a BAC .15% or greater. He was also cited for Open Container Violation and Disregarding a Traffic Control Device. Murphy will soon receive an initial court appearance in the Jackson County Superior Court.
Neither Murphy nor an adult female passenger in the vehicle were injured in the crash and the investigation is ongoing.
Luckily, no one was hurt in this instance but it's certainly an example of how complicated truck accidents can be. At Tabor Law Firm, our lawyers can work with you to simplify the process and investigate the situation fully. This allows us to determine fault for the accident and determine the full extent of your losses. Things such as…
Who was involved and who is liable?
Were any laws or trucking regulations violated?
What are your harms and losses?
Who will pay your medical bills?
The trucking companies, insurance companies, and their attorneys know Tabor Law Firm. They know we cannot be pushed around and that we take our clients' cases seriously. We invite you to schedule a free consultation as soon as possible to learn how we can put those skills to use for you.