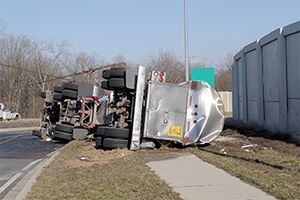 While large trucks are said to be involved in fewer accidents than other
types of vehicles, accidents involving big rigs have a much higher rate
of fatalities. This is at least in part because trucks can weigh up to
30 times more than the average passenger vehicle. This in turn means that
the driver and passengers of any smaller vehicles involved in Indiana
truck accidents are, sadly, more likely to perish or be severely injured.
Recently, two truck accidents occurred within the same day in the same
area. According to Indiana State Police, the first crash happened at around
7 a.m. when two semi-trucks were backing onto the freeway. Thankfully,
no one was killed in this accident, possibly because it involved no passenger vehicles.
Sadly, though, the second accident claimed at least one life. According
to reports, this wreck happened because of the traffic backup caused by
the first accident. It involved a minivan crashing into a semi on Interstate
65 South. The crash killed one person and injured three others.
Indiana State Police are still investigating the second accident. Regardless
of whether the official investigation turns up evidence of any apparent
criminal wrongdoing, the injured parties and/or the family of the deceased
victim can seek the counsel of an attorney with experience in truck accident
litigation. Truck accidents are typically more complicated than other
types of vehicular accidents, but a lawyer with knowledge of the litigation
process can provide the necessary legal support, working with any injured
victims or family members to investigate the incident and fight for just
compensation.
Source: courier-journal.com, "1 dead after crash involving semi-truck in Seymour", Madeleine Winer, April 4, 2017