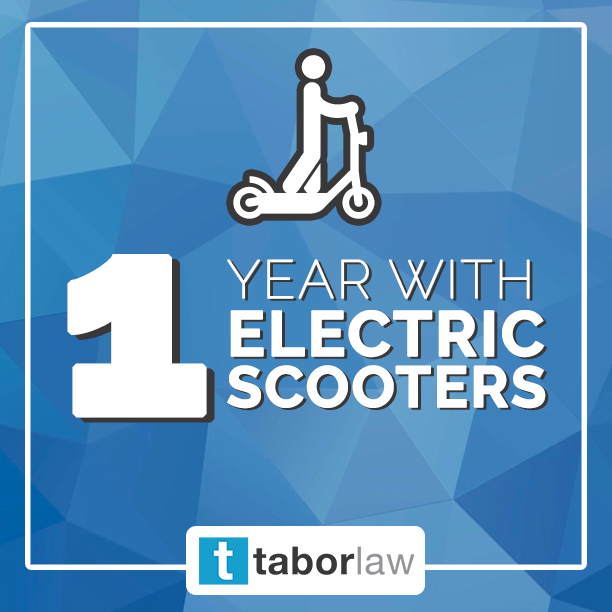 Electric scooters have changed the Indianapolis landscape forever. Some say for the better… others for the worst. The IndyStar had an interesting article about how scooters have changed Indianapolis after 1 year.
At Tabor Law Firm, we've been watching closely as this new form of transportation has raised questions about safety for Hoosiers.
Law enforcement officials, pedestrians, and scooter riders themselves were confused where the scooters would even be allowed. Sidewalks? Roads? Bike lanes? This question goes hand-in-hand with safety.
Some riders often don't feel safe riding on the streets and would prefer to be allowed on the trails, where scooters are currently forbidden.
Even though the non-profit that helps manage the Cultural Trail did not choose to ban scooters, they say the city's sidewalk rules automatically apply.
The speed of these electric scooters is also an issue to some. The scooters have a maximum speed of 15 mph, according to Bird and Lime.
For Indianapolis City-County Councilman Zach Adamson, the ongoing question of where to ride isn't about speed but about riders following rules.
"If (scooter riders) can't follow the rules, it would be reckless for us to say sure, go ahead and ride wherever you want, even where pedestrians don't feel safe with you zooming by," Adamson wrote in an email to IndyStar.
"Pedestrians that don't feel safe have no where else to go. If you don't feel safe riding the scooters where it's legal, you don't have to ride them. For the same reason I don't skydive. I don't feel the excitement would justify the risk."
Adamson, however, said he sees little risk in riding on the street, which he said he does often.
Another location where some would like to ride scooters is the Monon Trail.
Ronnetta Spalding, chief communications officer with Indy Parks and Recreation, said Parks bans scooters from the Monon because they have motors.
She said nothing electric is allowed on the trail. An electric bike, for example, could only be ridden on the trail if its electric system were turned off.
Scooters are also banned from White River State Park and the canal walkway.
Lisa Pippin is the executive assistant for White River State Park, which contains about a third of the canal. She said scooters being banned from the walkway and the park comes down to safety.
"The Park has received numerous complaints from Park patrons stating that they have nearly been hit coming around a corner by scooters," Pippin wrote in an email to IndyStar. "Two scooters riding abreast leaves little room on the Canal walkway for pedestrians."
When asked why bikes are allowed while scooters are not, she noted that bikes are not motorized and that they "typically are using a route that is bike friendly, such as the Cultural Trail."
Indianapolis Metropolitan Police Department is responsible for ticketing riders who use the sidewalks.
With the current rules and infrastructure, Indianapolis Emergency Medical Services transported 113 patients for scooter-related injuries September through May.
Brian Van Bokkelen, media relations and public affairs manager for Indianapolis EMS, said they track injuries by what medical personnel are told at the scene. The totals do not account for people who walk into the emergency room with an injury.
The most injuries recorded in a single month is 24. That total was reached in October, when Bird and Lime had the most scooters on the streets. May and September had the second and third most injuries, with 23 and 21.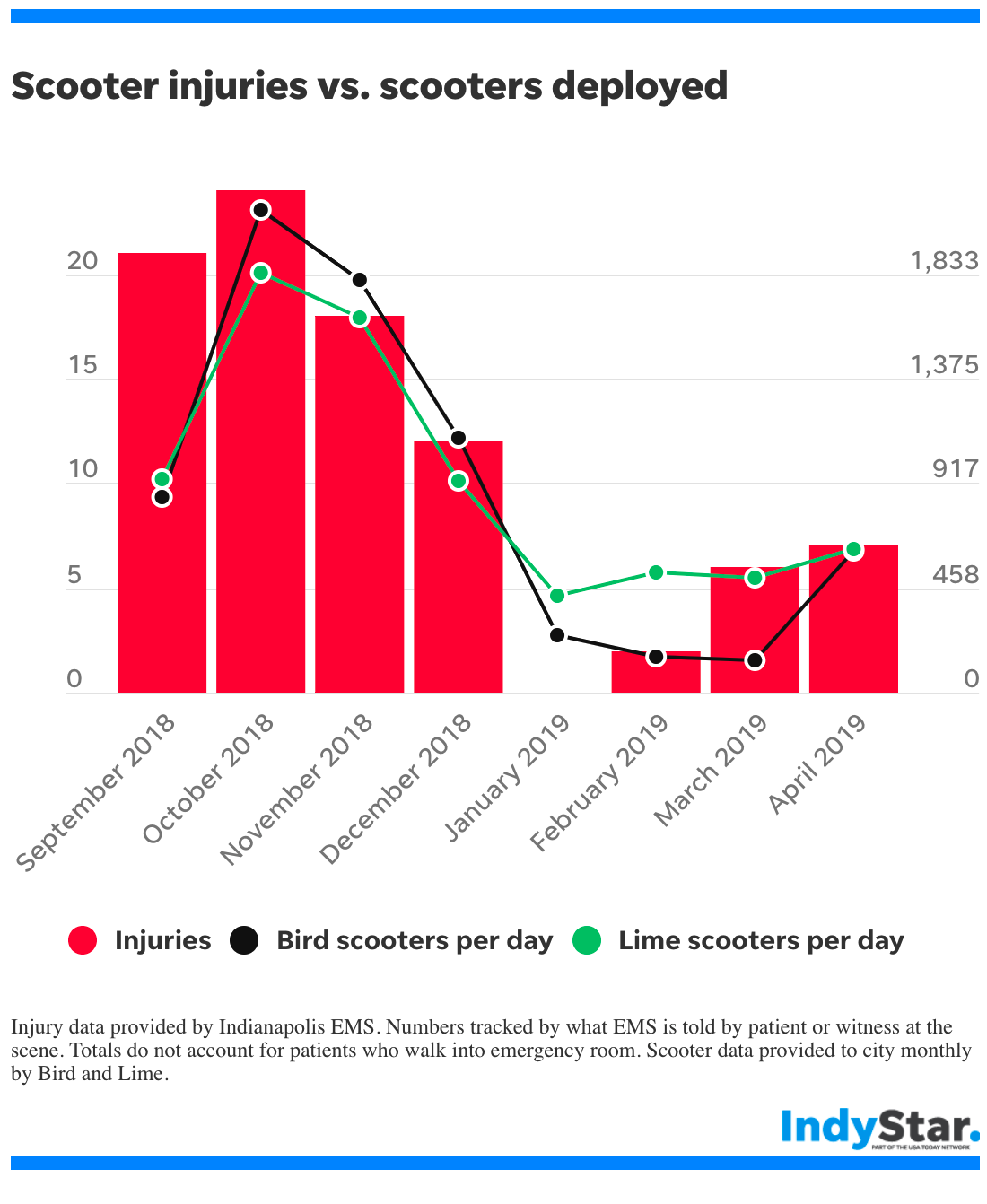 There were 72 bicycle injuries recorded in the same timespan, with the most injuries, 21, coming in September, according to Indianapolis EMS.
21% of injured bicyclists admitted to consuming alcohol before riding, compared to 51% of injured scooter riders. In October, Indianapolis police made their first arrest on suspicion of operating a scooter while intoxicated, when police say a 21-year-old ran a red light on a Lime scooter.
At Tabor Law Firm, we have over a century of collective experience handling all types of severe injury. We've warned of the rise in scooter related injuries in the past. We are one of the few remaining law firms that exclusively handles catastrophic injury and wrongful death cases. This narrow, focused practice allows us to effectively navigate the nuances involved in these types of serious cases, as well as provide our clients with the level of attention and care they deserve.
Our Indianapolis scooter accident lawyers know that, after a major accident or life-altering incident, most people don't know where to turn. You may wish to simply accept the first offer from the liable party's insurance company in order to resolve the issue as quickly as possible. However, we strongly advise that you instead speak to an experienced attorney who can help you determine the full amount of compensation you are entitled to receive. Often, the liable insurance company will offer a low-ball settlement that will not cover the full extent of your damages, including the cost of lifetime medical care and non-economic damages, such as pain and suffering. Our team can help you understand your rights and work to recover the maximum amount you deserve.