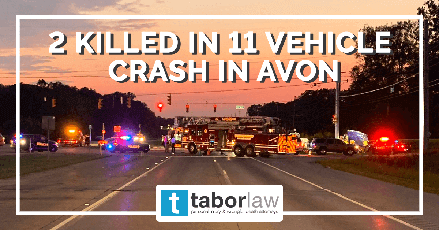 Two people were killed in an 11-vehicle crash in Avon and a dump truck driver has been arrested, according to police.
Avon police have identified the two victims as Gerald Legan, 80, and his wife, Rhonda. A third victim, a 65-year-old Indianapolis resident, remains hospitalized in serious condition.
The crash happened around 4 p.m. on U.S. 36 at County Road 625 East.

An Avon Community School Corporation school bus was also involved in the crash, according to an alert from the district, however, no students were on the bus and the bus driver was not injured.
"We're still in the very early stages of our investigative process so a lot of information is unknown and unconfirmed right now," Avon Deputy Police Chief Brian Nugent said. "I can confirm that we do have an accident involving a total of 11 vehicles here at the intersection."
Nugent said the dump truck driver, Danny Williams, 62, of Knightstown, is charged with causing death while operating a motor vehicle while intoxicated, causing serious bodily injury when operating a vehicle while intoxicated, reckless homicide and leaving the scene of an accident.
Williams was not injured but was transported to an area hospital for the administration of a chemical test as required by law for motorists involved in a crash involving serious bodily injury or death, Nugent said.
A search of the truck's U.S. Department of Transportation number shows it belongs to North American Environmental Services LLC. Records show the company had no previous crashes in the past two years. The only violation it received was for a driver not wearing a seat belt.