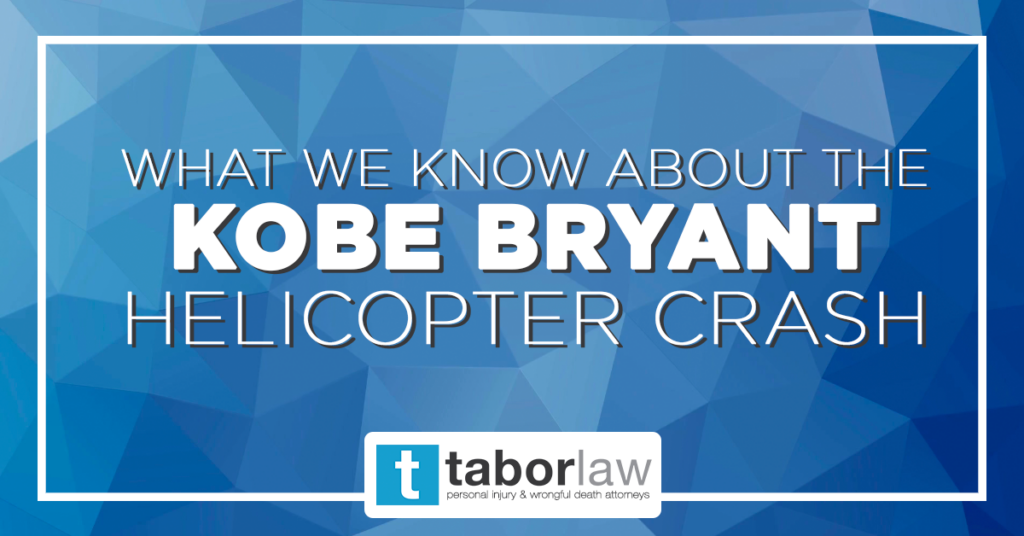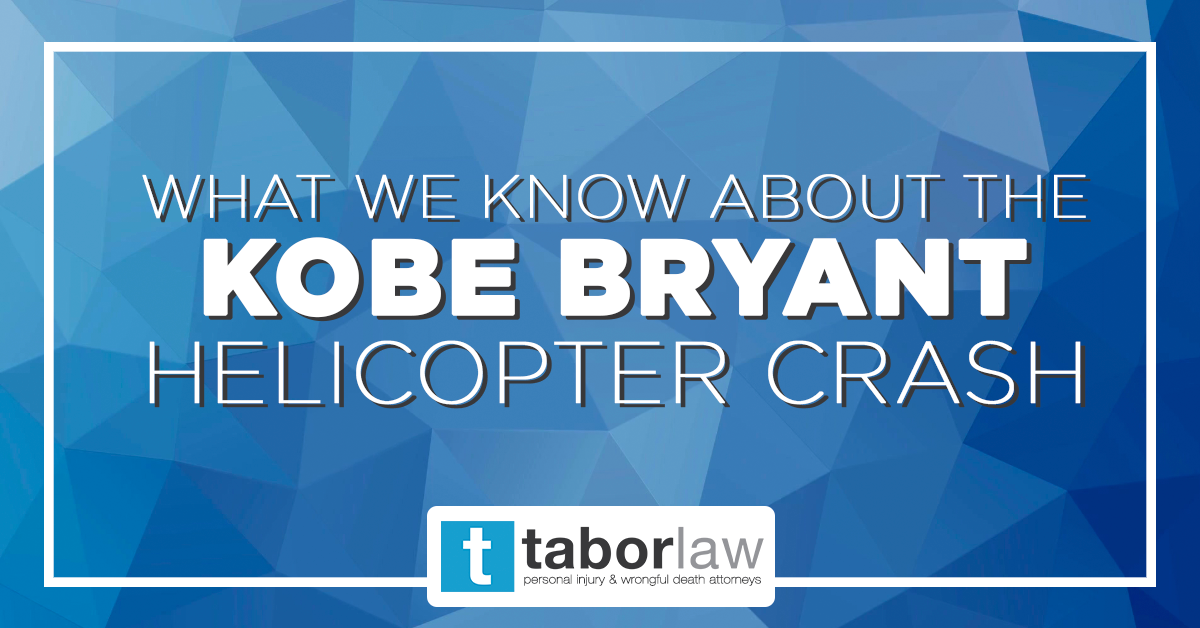 Following the high profile death of NBA basketball player Kobe Bryant, the helicopter industry has been forced to face some serious safety struggles head-on. Unfortunately, Tabor Law Firm knows these safety struggles and the intricacies of helicopter investigations all too well.
The National Transportation Safety Board has released a preliminary report on the crash of the helicopter carrying Kobe Bryant and eight others. The 1991 Sikorsky S-76B was transporting parents, coaches and players to a youth basketball game at Bryant's Mamba Academy in Thousand Oaks, California on January 26. The others who perished in the crash were Bryant's 13-year-old daughter, Gianna; Christina Mauser; Payton and Sarah Chester; John, Keri and Alyssa Altobelli; and pilot Ara Zobayan.
The NTSB report, released Friday, answers some key questions, but others have yet to be answered. Helicopter crashes require detailed investigation with aviation specialists. Tabor Law Firm is unique in that we are equipped with the resources to thoroughly investigate an aviation accident. Looking at factors such as helicopter maintenance, weather conditions, and radio communications with air traffic control.
The helicopter crash that killed Kobe Bryant has brought to light the fact that the Federal Aviation Administration has refused to adopt to some recommendations of the National Transportation Safety Board. Some of the recommendations included night-vision goggles and regular checks of pilots' ability to deal with unexpected bad weather.
It is clear that weather was a major concern for the pilot, Zobayan. He requested special visual flight rules, or VFR, which allow pilots to fly in controlled airspace when ceilings are less than 1,000 feet or when visibility is less than three miles. As weather conditions deteriorated on the trip from Orange County to Ventura County, the pilot requested "flight following," a process in which controllers are in regular contact with an aircraft and can help navigate. In recorded radio communications, the air traffic control tower is heard telling the pilot the chopper is too low for flight following. Radar data indicate Zobayan, who had been a licensed commercial helicopter pilot for 19 years, guided the helicopter to 2,300 feet and then began a left turn. That's when the rapid 180 MPH descent began.
While the cause of this crash has not yet been identified, the spotlight is on the Federal Aviation Administration. 51 people were killed in helicopter crashes in 2019, according to the U.S. Helicopter Safety Team.
In 2009, Tabor Law Firm successfully negotiated a seven-figure settlement for the children of a mother, a nurse at the time, who's life was taken when a helicopter suffered a catastrophic failure of the main rotor blade. Investigations uncovered that the helicopter's rotor blade fractured due to defects created during the manufacturing process.
Contact Us Today
If you or your loved one have been involved in an aviation accident, contact Tabor Law Firm in Indianapolis, Indiana today and we can begin a thorough investigation of the details that led to the accident. We will send the message that no one will tolerate negligence from commercial and civil operators. We can offer you emotional support while we lead you through the process of recovering just compensation for your injuries and other losses. Additionally, our attorneys will do everything they can to take the insurance process off of your hands so that you can focus on what really matters: your recovery.