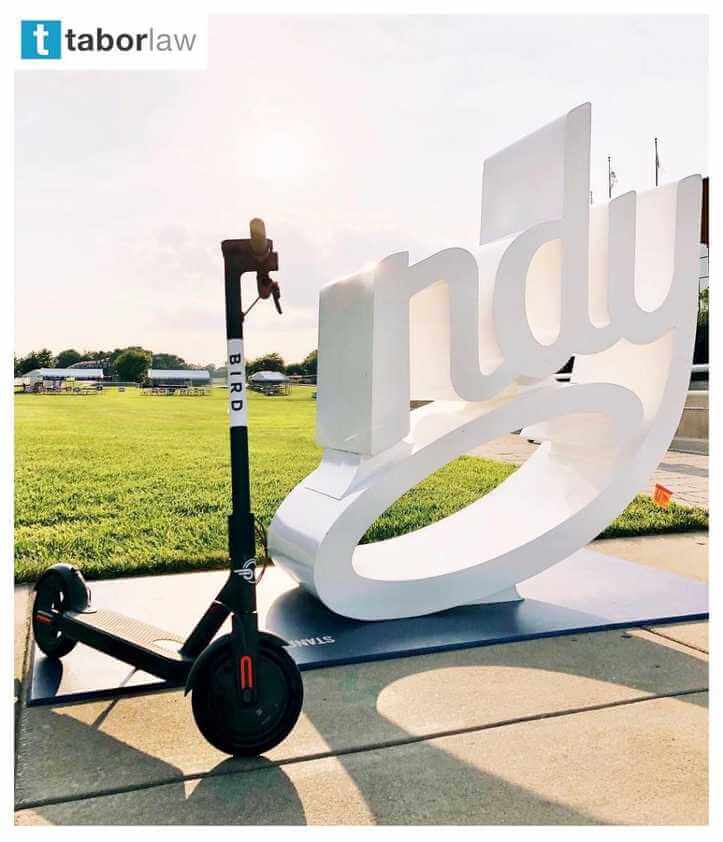 It's no surprise to anyone that the onslaught of scooters around Indianapolis
presents a number of potential injury concerns.
In a recent article the
IndyStar reports that in the past two months,
scooter-related accidents have been responsible for what emergency room doctors estimate to be upward
of 100 injuries, from scrapes and bruises to broken bones.
For September and October, Indianapolis Emergency Medical Services has
logged more than 20 calls a month related to E-scooter injuries, 22 the
first month and 24 the following month. The first four days of this month
saw five calls related to E-scooter injuries.
But the emergency room doctors who work in Downtown hospitals say that
the numbers are actually much higher.
"I would say you could safely double or triple that for the city and
you have a more accurate count for the injuries," said Dr. Tyler
Stepsis, medical director for the Eskenazi Health emergency department.
"I couldn't give you any exact data, but I can definitely tell
you that electric scooter injuries are on the rise. We're seeing more
and more minor injuries and major injuries."
The emergency rooms at IU Health Methodist and Riley Hospital for Children
have seen many scooter injuries in recent months, said Dr. Keaton Morgan,
a resident in emergency medicine at IU Health Methodist.
The two main players in E-scooters in Indianapolis are Lime and Bird. Both
companies provide safety information to riders through their app. Bird
on its website offers to provide free helmets aside from the shipping
cost. Bird's safety directions state that only single riders are allowed
and urge riders to use both hands.
Lime recently introduced a Respect the Ride campaign, which invites people
to take a pledge to follow traffic laws, wear a helmet when riding, and
be mindful of cars, pedestrians and other riders. The company plans to
provide 25,000 free helmets to the first riders who sign the pledge.
A recent government study in Austin, Texas, found fewer E-scooter-related
injuries in a five-month period than those on bicycles. According to the
study, there were 37 E-scooter injuries, at a rate of about three every
two weeks, compared with 81 injuries involving bicycles.
A 2017 Israeli study of motorized E-scooters and their cousin, the electric
bike or e-bike, found 795 injuries involving these vehicles that required
hospitalization between 2013 and 2015. Eight percent of those injured
were pedestrians, and five people – three riders and two pedestrians –
died in the hospital.
The study relied on the Israel Trauma Registry and concluded that e-bikes
and electric scooter riders constituted the majority of patients hospitalized
in that country due to traffic accidents.
So far, no deaths have been reported in Indianapolis. While other cities
such as Washington, D.C., and Dallas have seen fatalities associated with
E-scooters.
Broken wrists are not uncommon when the rider falls off and tries to catch
him or herself, Stepsis said. E-scooter riders tend to be at their most
vulnerable when they ride on sidewalks and drivers pull out of a garage
suddenly, Morgan said.
Pedestrians also use the sidewalk but move slower, making it less likely
a car will not have time to stop. In September, a Bird rider, who was
not wearing a helmet, suffered a minor head injury in such a collision.
Few injured E-scooter riders that the doctors have seen have been wearing
helmets, a safety measure that both emergency medicine doctors and the
E-scooter companies recommend. Indiana does not have a helmet law for
either motorized vehicles such as motorcycles or nonmotorized vehicles
such as bicycles.
Other factors that increase the risk of injury include rain, riding while
inebriated, and sharing a scooter, which is meant for a single rider,
Morgan said.
If you or someone you know is hurt while riding an E-scooter due to someone
else's negligence you should
contact the experienced attorneys at
Tabor Law Firm in Indianapolis today.